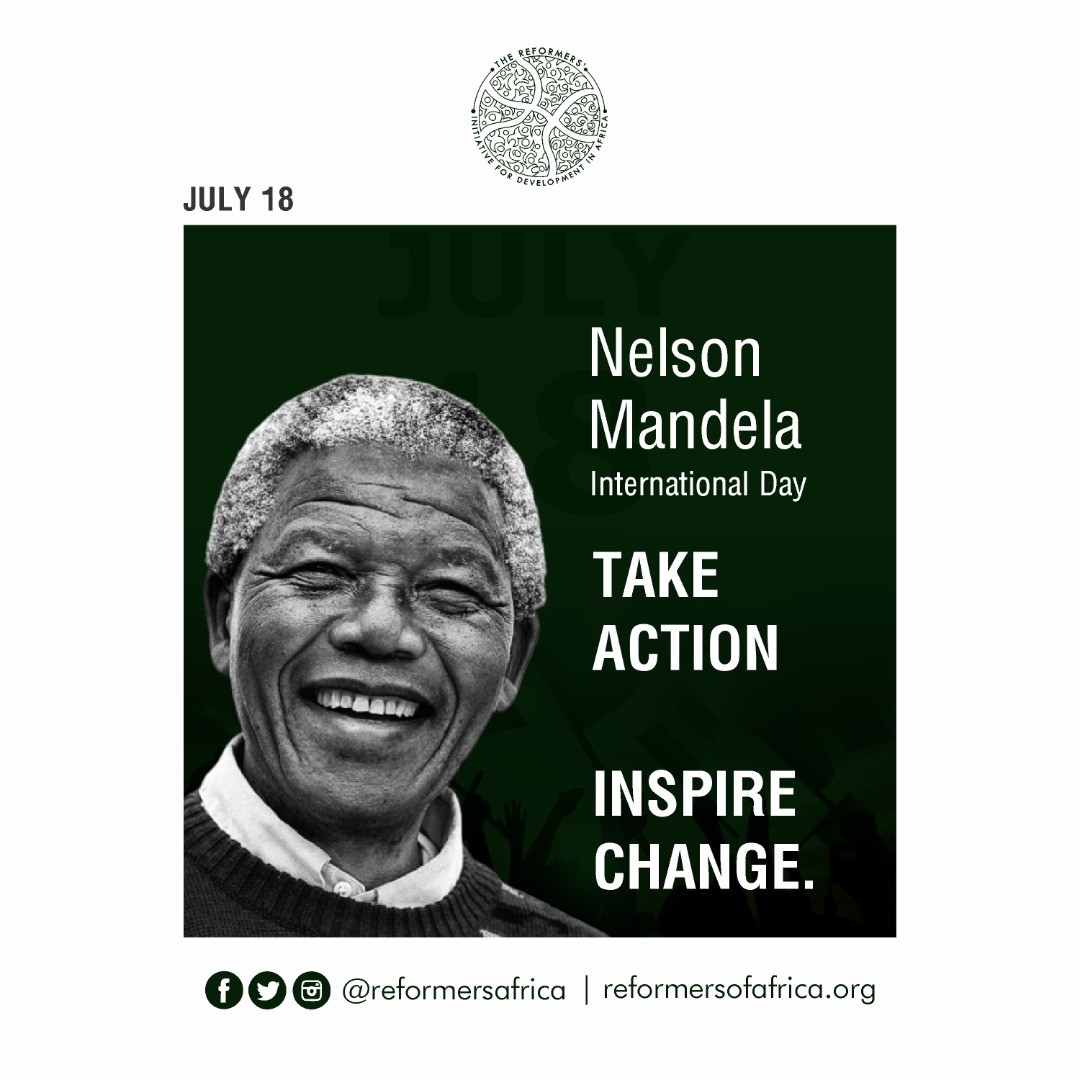 Mandela Day: Reflections And Lessons From Mandela
Born on this #MandelaDay (July 18) in 1918, Nelson Mandela fought against systemic racism – apartheid in South Africa, and went on from being the world's most prominent political prisoner to become the first black president of South Africa (1994-1999), and arguably the most prominent African figure till date.
As the world celebrates #MandelaDay, we reflect on the life of this exemplary Reformer of Africa and draw strength from his examples. Here are five lessons Mandela's life has taught us:
1. He had many 'firsts'
Mandela was the first person from his family to attend school. A lawyer, he was the first black person to open a law firm in South Africa. Upon release from prison, he soon became the first black president of South Africa; first head of state in Africa to be deputised by a former head of state; and the first president to be elected in a fully representatives democratic election South Africa.
2. He lived out the meaning of his name
Mandela's local name 'Rolihlahla' translates as 'troublemaker'. But for the right reasons and for the greater good of humanity, he lived up to the meaning of his name. Mandela was a terror to racial injustice, and a deviant to systemic inequality. Prior to his study at Wits, he was expelled from the University of Fort Hare for resigning his position as SRC president to symbolise his grievances against the ill welfare of students.
3. He was an altruistic leader
Mandela was willing to die a martyr for Black Liberation. An excerpt from his speech during trial in 1962 reads, "our struggle is a truly national one. It is a struggle of the African people, inspired by our own suffering and our own experience. It is a struggle for the right to live. I am committed to the ideal of a free society, and if it needs be, it is an ideal for which I am prepared to die." He would later prove his commitment to this ideal again in 1985 when he flatly rejected an offer from President P.W. Botha to be released in exchange for renouncing armed struggle.
4. He reminds us that "it always seems impossible until it is done."
Mandela's vision for a democratic and equal South Africa was realised. During his lifetime of resistance, imprisonment and servant-leadership, Mandela helped disrupt South Africa's oppressive social order, ended apartheid, and passed a constitutional reform of racial reconciliation and majority rule in South Africa. His life is an exemplar of the power of resilience.
5. His greatness outlived him
The United Nations in 2009 declared, today, Mandela's birthday (July 18th) to be Nelson Mandela International Day. The holiday tasks everyone everywhere to spend 67 minutes doing something good for others, to represent the 67 years he spent working toward change.
As we reflect on the life of Mandela on this #MandelaDay, and take action in that regard, we leave you with the words of Former President of South Africa, Jacob Zuma, "Wherever we are in the country, wherever we are in the world, let us reaffirm his vision of a society ... in which none is exploited, oppressed or dispossessed by another." On this #MandelaDay, take action, inspire change!
What lessons have you learnt from Mandela? How has his life inspired you? We'd love to hear from you, share your response in the comment section below. You can also share your response on Social Media- using the hashtags, #MandelaDay #ReformersofAfrica