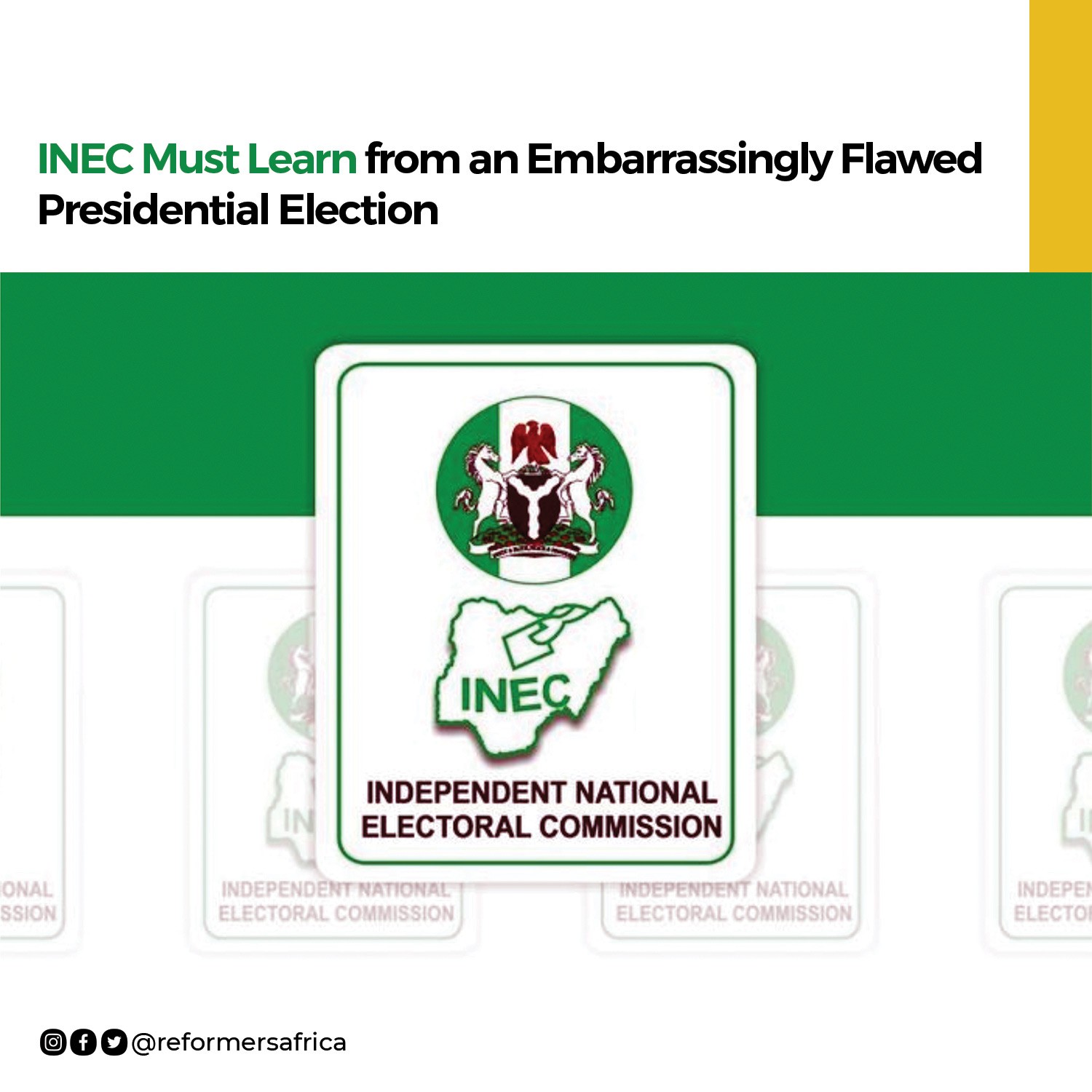 Inec Must Learn From An Embarrassingly Flawed Presidential Election
---
By: Oluwasegun Ajetunmobi
In the lead-up to the February 25, 2023, Presidential election in Nigeria, many Nigerians had hoped for the freest and fairest election in the fourth republic. However, optimism quickly dissipated due to violence in some areas and unacceptable mistakes by the electoral umpire. The election processes were embarrassingly flawed, despite the significant amount spent on technology to aid the elections. INEC must learn from this situation to conduct free and fair gubernatorial elections.
INEC and the Unfulfilled Promises of the 2023 Elections
Since the beginning of the Fourth Republic, elections in Nigeria have been marred by several instances of electoral misconduct and manipulation. When Professor Yakubu Mahmoud was appointed as the current INEC chairman in 2016, his central message was the need for credible elections and electoral processes. However, there were fears of manipulation during the 2019 Presidential election, and issues were identified in the electoral processes.
To address these concerns, the Bimodal Voter Accreditation System (BVAS) was introduced in preparation for the 2023 elections. According to Mr Mahmoud, the BVAS would verify the genuineness of the Permanent Voters Card (PVC) by identifying the facial or fingerprint of the voter. Additionally, the BVAS was expected to facilitate the real-time uploading of election results to the INEC Result Viewing Portal (IReV).
Addressing Unacceptable Mistakes and Flaws in Nigeria's Electoral System
The electoral process in Nigeria has been plagued with several issues, including unacceptable mistakes and a flawed election. One of the most significant issues was the disenfranchisement of many Nigerians due to the Independent National Electoral Commission's (INEC) failure to provide their Permanent Voter Cards (PVCs) before the election. Despite the INEC's claims of double registration, reports suggest that some Nigerians were denied their voting rights without explanation or apology. It is crucial for INEC to provide an adequate explanation and solution for this issue to maintain its credibility for future elections.
Another unacceptable mistake made by INEC was the failure to upload results on the IReV platform in real time, as promised. This mistake did little good for the shaky credibility of INEC, and it is unacceptable to make such significant promises without fulfilling them. It is imperative for INEC to transmit election results in real-time to ensure transparency and accessibility.
The election was also marred by several cases of electoral violence, highlighting the flaw in Nigeria's electoral system. After 24 years of civil rule, it is unacceptable that electoral violence is still a significant issue in Nigeria. There is a need for a total clampdown on electoral violence, and political parties must work with security operatives to discard "political thugs" during elections
In addition, political apathy continues to be a problem in Nigeria. The turnout of less than 30% is the lowest in Nigerian election history, and political education is still necessary for many parts of Nigeria to eradicate political apathy and encourage turnout during elections.
To address these issues, there must be a conscious effort to provide the right tools to make digitization work in Nigeria's electoral processes. INEC needs to review its guidelines for future elections, and voter registration should be continuous in all quarters to avoid a fire brigade approach to voter registration. There is also a need for a larger political education campaign in Nigeria involving INEC, civil societies, political parties, and all players in the electoral process. It will be progress if 60% of registered voters come out to cast their votes.
In conclusion, Nigeria's elections are key to its progress in democracy, and any flaws or unacceptable mistakes put a dent in Nigeria's image. Therefore, it is crucial for INEC to sort out the mess in the electoral process, and Nigerians demand proper explanations and solutions from INEC to maintain its credibility for future elections, starting from the gubernatorial elections next week.
Author: Oluwasegun Ajetunmobi (Head of Programmes, Reformers of Africa)
——
Contribution: Tosin Durodola (PhD Candidate @UniEdinburgh and Research Associate @Reformers of Africa); Samuel Wheto (Architect and Volunteer @Reformers of Africa).