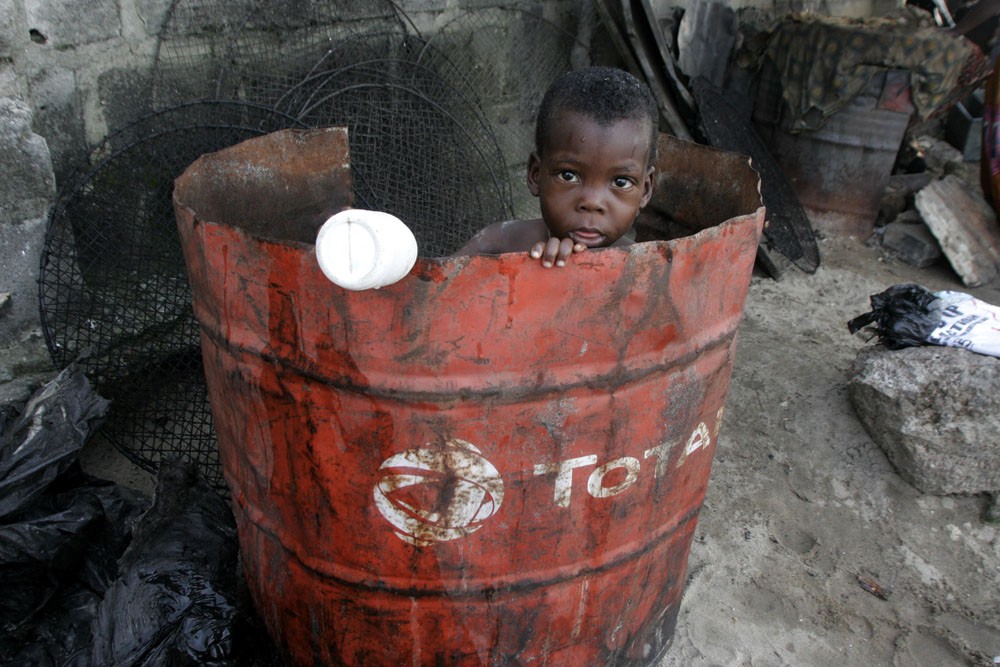 Poverty In Nigeria: The Price For Leadership Deficit
Image Credit: Sunday Alamba Via Flickr
Nigeria is taking a back seat in the development of nations in Africa, and across the world. The nation, despite the riches of its resources – from human to natural – is home to the highest number of poor in the world having 69% of its population living below the poverty line. This menace that currently grapples the country; stifles the pace of development and threatens the sustenance of lives & properties of the populace.
This poverty crisis has also given birth to more problems in the country – that affects its human development. With a Human Development Index (HDI) of 0.534 – which puts her in the 'low human development' category, human development in Nigeria is ranked 158 out of 189 country in the world. Against this backdrop, Nigeria may well again, just like in the Millennium Development Goals epoch (from 2000-2015) not be in the path towards achieving the Sustainable Development Goals of eradicating all forms of poverty and inequality by 2030. Meanwhile, at a growth rate of 3.7%, Nigeria is the largest economy in Africa and is home to the top 2 richest men in the continent of Africa. These data beg a question, why do citizens of a country that has so much have so little or next to nothing?
"Ours is an ocean wide of leadership but with an inch depth of quality"
Ours is an ocean wide of leadership but with an inch depth of quality. No doubts, Nigeria owes her poverty crisis to leadership crisis. Since the post-independence epoch in the country's history and existence, the country has experienced a steep drop in the quality of people running the affairs of the state with a concurrent increase in the poverty level over the last 5 decades. This is not to say the pre-independence era was any better in terms of leadership, but the difference is clear and evident in the struggles, labour and fight for freedom from colonial rule by the 'independence' political figures of that era. Today, politicians expend resources of time, money and energy to win elections but do not expend the same resources in furthering the pace of development through quality governance.
With a score of 47.9 (out of 100), the Ibrahim Index of African Governance (IIAG) ranks Nigeria as 33 out 54 countries in overall governance in Africa. This data speaks volume. One is that Nigeria, while other African nations are rising in leadership, is falling; meanwhile, the pace of development of a nation rises or falls on that nation's leadership. Another narrative can be that this leadership deficit is now obvious to the entire world. Ultimately, nothing works in a nation where there is a failure in leadership. For this country to work; for our shameful poverty statistics to become realities that only exists in history books, we as a people must get it right with leadership.
Research and reports have shown that corruption contributes significantly to poverty in Nigeria. Nigeria ranks highly annually in Transparency International's Corruption Perception Index (CPI). Incidentally, the higher Nigeria ranks in the annual CPI, the lower the HDI as more 6 new Nigerians plunge into poverty every minute according to the World Poverty Clock. This damning statistics owes to the fact that the monies meant for projects targeted towards human and national development are usually syphoned by those in power leaving the citizens without jobs. It is becoming a norm to find Governors of States owing workers months of unpaid salaries to the point that payment of salaries makes up politicians' campaign speeches; and workers rejoice when their dues are paid them. Maybe corruption (and by extension, poverty) has become a tool for politicians to win power and to remain in power. Transparency International's Chair, Delia Ferreira Rubio re-affirms this claim. In her words, "corruption is much more likely to flourish where democratic foundations are weak and, as we have seen in many countries, where undemocratic and populist politicians can use it to their advantage." To tackle poverty, citizens must be empowered to hold their leaders accountable. Those in power must also become responsible and work for the people, and not their bellies as they presently do.
"corruption is much more likely to flourish where democratic foundations are weak and, as we have seen in many countries, where undemocratic and populist politicians can use it to their advantage"
Poverty will continue to increase alarmingly if investments are not made to develop the human capital of this country. And how else do you invest in human capital if not through education? The irresponsibility of the government of Nigeria is animated shamefully in the educational sector of the country. Less than 10% of the budget goes to education which is lesser than the recommended percentage by UNESCO. This accounts for the over 10 million of out of school children in Nigeria which is perhaps one of the highest in the world.
As mentioned earlier, education in Nigeria is underfunded. Inadequacy of the funds set aside for education has affected the staffing for education and infrastructure for education. Staff are not motivated to teach because they are underpaid and have little or no benefits. Consequentially, the best minds do not consider teaching as a career path. Nigeria needs to fund education in other to retain and attract the best minds to the profession and provide adequate infrastructure to adequately train the next generation of leaders to be deployed into all sectors of the country. Nigeria needs to build capacity by investing in her people. Perhaps Nigeria leaders do not see the value in education themselves since many of them did not school beyond secondary school. Even the president of the country had to prove the authenticity of his SSCE certificate to the citizens at the court of law.
Nigeria is on the pathway to doom if it fails to resolve the crisis of leadership that has held her back for long. Development can not be achieved in the absence of good governance.
---
Temilorun Olanipekun is the Head Of Programmes at Reformers Of Africa. He a Development Practitioner, who ambition to redefine leadership in Africa through knowledge, enterprise and public service. He's currently rounding up his Master program in Sociology (of Developmemt) at Covenant University
You can follow Temilorun on Twitter, @temilorun_tema